| | | |
| --- | --- | --- |
| Figure 1 | Figure 2 | Figurs 3 |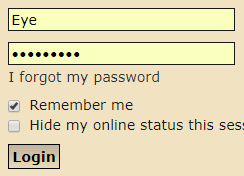 Figure 4
Enter your user ID.
Enter your password.
Check the box below your password the says "Remember Me." (see Figure 4 above)
Click "Login" button.
| | |
| --- | --- |
| Figure 5 | Figure 6 |
First you must be logged into the forum.
Click on the "User Control Panel" button on the drop down menu under your "User ID". (top right, see Figure 5)
Click on the "Usergroups tab" (see Figure 6)
Select to group/groups you would like to join.
Scroll to the bottom and click "Submit".
First you must gain access to the forum where your "Personal Journal" will be located. (join the group that has access to that forum, e.g. "Abuse" group has access to the "Abuse" forum)
Then enter that forum and click on "New Topic".
Name the topic (e.g. Personal Journal for Eye")
When you are finished click submit.